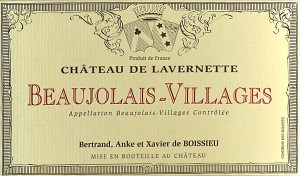 Surface of production : 4.31 ha (10.65 a)
Exposition: South, South-East
Soil: Granite with sandy-clay topsoil
Average age of vines: 36 years
Grape variety: Gamay noir à jus blanc
Pruning: Goblet
Harvest: Hand harvested
Yield: 45Hl/ha (2.4 tons/acre)
Serving temperature : 15°-20°C (60°-68°F)
Aging potential : 3 to 7 years
Winemaking:
The grapes are hand picked, sorted and gravity fed into open top tanks. The grapes are kept on their skins and fermented for 7 days. The must was either punched down or pumped over 2-3 times per day, to extract the tannin and colour while adding complexity. The malo-lactic conversion occurs naturally. The wine is estate bottled in the spring and aged in bottle before being released.
Tasting notes:
The taste of apple pie and cherry tart melded into one with strawberry rhubarb flavours to top it off. This Beaujolais-Villages has the enchanting fragrance of ripe red fruits from the orchard and briar. The wine has a silky entry followed by a lavish mid-palate showcased on a pedestal of fine integrated tannins.
Food pairing:
An easy-going gamay that tastes great with a wide array of dishes. Grilled fish such as salmon, tuna or eel, your favorite roast beast, pasta with tomato sauce, mushroom risotto, bacon quiche, crudités, cheeses such as creamy blue, cheddar or aged goat.