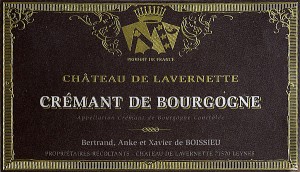 Exposition: South, South-West
Soil: Sandy clay with chalk veins
Average age of vines: 20 years
Grape variety: Chardonnay
Pruning: Guyot
Harvest: Hand harvested in perforated crates
Yield: 55Hl/ha (2.9 tons/acre)
Serving temperature: 4°C- 10°C (39°-50°F)
Aging potential: Drink now to 5 years
Winemaking:
The creation of exquisite crémant begins in the vineyard. Our crémant is made from one hundred percent chardonnay that comes from the vineyard of Beaujolais blanc. The grapes are hand-harvested, in the morning, into perforated crates. The base wine is obtained by gently pressing the whole clusters to yield 100 litres of juice for 150 kg of grapes. After the base wine receives approval from the INAO it is ready for tirage (addition of a yeast sugar mixture). The cuvee is fermented, aged on its fine lees for a minimum of 9 months and then undergoes the process of riddling. The crémant is disgorged and dosage (reserve wine, sweetened according to house style) is added to balance the wine. Our domain always makes crémant in the dry (brut) style exclusively. This traditional method of making effervescent wine is also known as méthode champenoise.
Tasting notes:
Any time of the day or night, these tiny bubbles present a reason to celebrate life. A vivacious and festive pale gold sparkler made by méthode traditionnelle. The perfect accompaniment to breakfast & orange juice, parties & potato chips, elegance & oysters, strawberries & dessert… Carpe Diem!
Food pairing:
Wonderful as an aperitif. Clams & oysters as well as crab, lobster, scallops. Fondue, sushi, sesame chicken, tempura, soufflé or quiche. Hard, salty or soft, creamy cheeses. The perfect breakfast drink along side your glass of orange juice & crepes.